Celebrating 40th Anniversary
Join us for the celebration of this important milestone!
40 years have passed, and Winnipeg Mennonite Theatre continues inspiring its audiences with artful mastery of a long theatrical tradition. To celebrate this achievement, WMT has partnered with the Master Playwright Festival for its 12th annual Shaw Fest by creating a production of the famous Major Barbara written by George Bernard Shaw.
Tickets can be purchased either separately by clicking on the Buy Tickets link below, or as a bundle from the Master Playwright Festival. The bundle will enable you to see all shows from the Shaw Fest at a significantly discounted price.
Buy Tickets
A three act play by George Bernard Shaw.
Wednesday, February 1, 7:05 pm
Thursday, February 2, 8:05 pm
Friday, February 3, 8:05 pm
Saturday, February 4, 2:05 pm, 8:05 pm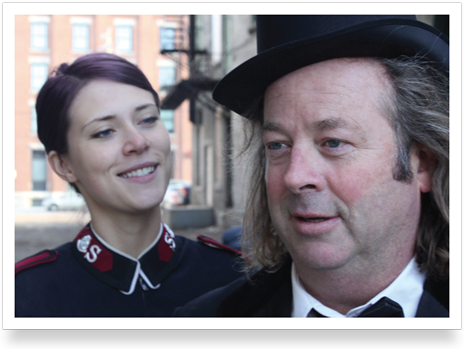 As the play opens, Lady Britomart, a British woman in her fifties, is discussing with her son some permanent source of income for her grown daughters, Sarah and Barbara, who are engaged to Charles Lomax and Adolphous Cusins respectively. Lady Britomart comes to the conclusion that the only solution to the present problem is to take monetary help from her estranged husband, Andrew Undershaft. He is a very successful businessman who owns a munitions factory that manufactures the world famous Undershaft Guns, submarines, and torpedoes. When their children were young, the couple separated due to questions about Undershaft's wealth and how it would be distributed. Lady Britomart has managed to raise the children by herself... [read more]